Santa Cruz luxury villa + surf course
Luxury villa. Fitnesse and peacefulness, luxury surf accommodation just 2 min from the beach.
Amazing rooms to sleep after a surfing day. A swimming pool and bar to chill out after surfing. Jacuzzi and a lounge zone to go lazy and charge batteries!
Santa Cruz luxury villa have modern double and family rooms, recently refurbished. Yet the villa still has its classic Portuguese character, creating an unique environment for its decor, charm and beautiful garden.
Super relaxing environment, you have party town just 5 min away.
In between the crowded towns of Peniche and Ericeira, and just 45min from Lisbon.

5 days surf lessons – 10 surf lessons – twice a day
6 nights accommodation
 breakfast
Bikes
SURFING:
Top quality surf lessons of 90 min/lesson
You get the right surfboard & warm wetsuits included
Insurance incl.
ACCOMODATION:
Luxury rooms with bathroom and includes kitchen, swimming pool, BBQ; bar, lounge zone,TV, telephone & internet, and a bike station.
SCHEDULE:
Every day we carefully choose best spot and tides and meet for the first lesson. After a break, we will have the second lesson.
Have some fun at the pool, relax on one of the garden's nooks and crannies, get in touch with nature, taste the best national wines, watch a movie from the comfort of our suites, enjoy a relaxing massage or enjoy the beautiful Praia Azul beach.
Just 30 min from the medieval town of Óbidos, in case you want immerse yourself in history.
Bus services run between Lisbon and Torres Vedras or Santa Cruz, making transfers easy. However a car is a plus.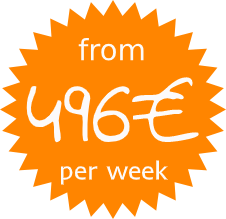 Can i take accomodation for my family and surf lessons just for the kids?
Yes, you can. However you should consider to go for a try!
If there isn't any physic or pathologic limitation for the practice of the sport, surfing is for kids from 6 to 70 years!
Will I have enough time to explore the region, getting one surf package?
Yes. You'll have time to both enjoy the beach and explore the region, and of course to have fun with a bit of party
Are the Surf & Accomodation packages cheaper than if I rent accomodation separated from surf lessons?
Yes, you can save money with the Surf &Accomodation packages.
Thanks to a good relation with our partners we manage to get a good deal for you!
Will I get surf lessons with you? Do you have any experience teaching?
Yes, you have the surf lessons with us. We have more than 10 years' experience on professional surf teaching in Portugal