Praia Azul Private Apartment with surf course
Private Apartment with surf course package! Perfect for family & friends surf holidays. We offer Budget apartment + surf course package.
Sleep & chill, right at the beach!
The Private Apartment with surf course package include an Ocean view swimming pool, private balcony, small garden, cozy bar to chill out after surfing and restaurant in case you go lazy on the cooking. And a top quality Surf Course!
Super relaxing environment, you have party town just 5 min away.
In between the crowded towns of Peniche and Ericeira, and just 45min from Lisbon.
This is the spot to be! Enjoy your vacations on top of the beach!

5 days surf lessons – twice a day
8 days accommodation of your choice
SURFING:
Top quality surf lessons. Each lesson is 90 min
You get the right surfboard & warm wetsuits
Insurance incl.
ACCOMODATION:
Right at the beach surf apartments for 2 to 6 people.
The apartments have a living room, kitchen, bedroom, kitchen and bathroom; as well as TV, telephone and internet. Ocean view Swimming pool.
With cleaning service and 24h Hotel reception.
SCHEDULE:
Every day we carefully choose best spot and tides and meet for the first lesson. After a break, we will have the second lesson. Afterwards you are able to go and explore the region, relax at the pool or at the beautifull Praia Azul beach.
Praia Azul is 15 min from Torres Vedras, a west coast gem, totally off the beaten track.
Just 30 min from the medieval town of Óbidos, in case you want immerse yourself in history.
Bus services run between Lisbon and Torres Vedras or Santa Cruz, making transfers easy should you not come by car.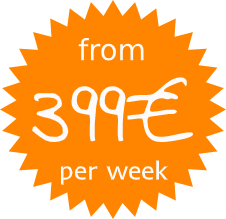 Can i take an apartment for my family and surf lessons just for the kids?
Yes, you can. However you should consider to go for a try!
If there isn't any physic or pathologic limitation for the practice of the sport, surfing is for kids from 6 to 70 years!
Will I get surf lessons with you? Do you have any experience teaching?
Yes, you have the surf lessons with us. We have more than 10 years' experience on professional surf teaching in Portugal.
Do i need to have any experience to join the surf lessons?
No, we teach individually, you don't have to adapt to the lesson, we adapt to You.
Can i leave my kids at the surf lessons, or do I have to stay there?
Yes, you can leave your kids, The place where we teach is right in front of the Hotel. So you can chill at your balcony, at the restaurant or even better, on the swimming pool! And enjoy your kids having fun!