Private surf lesson. Everyone who seeks even faster improvement. Learn how to surf in couple or family with a private surf coach.
In private surf lesson with our experienced instructors you will benefit from intensive, individual 1:1/ 1:2 supervision. Beginners start with the actual take-off on the first day.
Advanced students will be able to take great advantages out of this individually. Specified training to improve their personal skills. Private lessons are held at the best possible. Surf spot regarding wave conditions and the student's level.
Private surf courses also available for 3 and 5 days.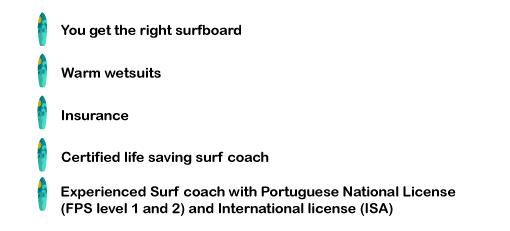 SURFING:
Private surf lesson just for you, or for your family or friends.
Learn how to ride a wave and get tips to help you profit more from the waves – always being in safety, in control and off course having fun!
Or, improve your level of surf (always being in safety and control) and your surf knowledge.
We offer lessons for different levels.
1 person from 70,00 €
From 2 persons up – from 100,00 €

Private surf course of 3 days or 5 days also available.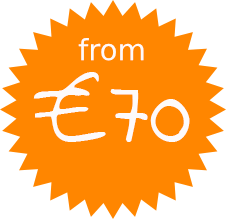 1 PERSON – from 180€
2 PERSONS – 300€
1 PERSON – from 300€
2 PERSONS – 500€
1 PERSON – from 500€
2 PERSONS – from 900€
How many people per teacher are on the private surf lessons?
It depends if you want to have it alone, or with 2 or 3 friends. But it's never more than 4 people per teacher.
What age is possible to start surfing?
Any Age! If there isn't any physic or pathologic limitation for the practice of the sport. Our academy surfing instructors are also all of them physic education teachers, used to lead with little kids. From 6 to 70 years.
You give surf classes to what levels?
All levels!
In what language are the private surf lessons?
English is the common language for the surf lessons. However we can do it in French, Spanish or in German. Off course you can have it in Portuguese if you prefer!:)