Surf Lesson in Portugal with qualified surf instructors & lifeguards at stunning portuguese west atlantic coast. Take a surf lesson with us and learn how to surf!
We put on 1 Surf Lesson, more than 10 years' experience on professional surf teaching. Learn how to surf with us!
Surf lesson for all levels.
On the Surf Lesson you get a personalized experience. We give you the best support and help to advance fast, the goal is that you have fun from 1st moment of the surf lesson.
Small group sizes with excellent student to instructor ratio at Atlantic Coast Surf School.
Surf lesson in English, French, Portuguese, Spanish and German.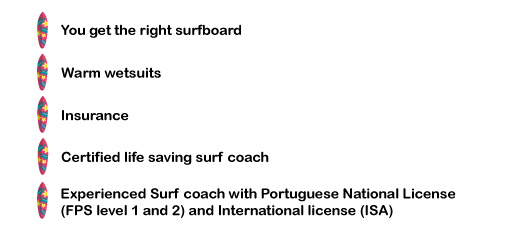 SURF LESSON:
Each lesson is 90 min
Learn how to ride a wave and get tips to help you profit more from the waves – always being in safety, in control and off course having fun!
Or, improve your level of surf (always being in safety and control) and your surf knowledge.
We offer lessons for different levels:
In the BEGINNER surf lessons, we teach you the right take-off technique to make you stand on the board.
The goal of the lessons is to familiarize you with the Ocean and waves, to make you feel comfortable in the water and have the feeling of riding a wave.

The INTERMEDIATE surf lessons are for surfers who are already familiar with surfing the whitewater.
We want to surf the first unbroken waves with you and try to teach you the first turns. We will give you good tips to get your surfing to the next level.

So you are able to surf green waves and you feel comfortable in waves up to 1.50 m? Then you will be taught in our ADVANCED surf lessons.
Your surf coach will go surfing with you and try to spot and correct your mistakes.
You will get valuable tips so you get the chance to optimize your surfing and improve your abilities on the board during the time of your stay.
Through effective coaching, you will soon be able to do your first turns.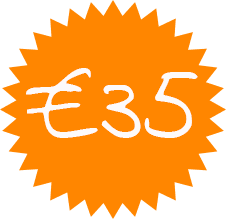 Can I have surf lessons every day?
Yes, we provide surf lessons every day of the week, including weekends.
I don't know how to swim, can I join the surf lessons?
Yes. Just let us know that. Any way we're always close to you and teach you all the safety rules you need to know.
How many hours a day do i stay in the water?
One lesson is 1:30h, so you should be around 1:15h in the water, depending on your level. With the most popular package with 2 lessons/day, you stay around 3 hour's total.
How many people per teacher are on the surf lessons?
On average you should have a ratio of 3 to 6 people per teacher. But it's never more than 8.