Santa Cruz Surf Camp and Surf Course
Santa Cruz Surf Camp will be remembered by you as the place you had epic surf holidays! We know our mission is to make us all to be happy in Santa Cruz Surf Camp!
From the Surf into a fun barbecue session in our garden, or just chilling in one of many common places of relaxation, the kitchen is the classic meeting ground!
Off the beaten path and in between the crowded towns of Peniche and Ericeira, we're just 45min from Lisbon and 5 min from party grounds.
Chill or party mood, you will enjoy a great experience!

5 days surf course – Surf Lessons twice a day
8 days accommodation of your choice
Beach shuttles – We bring you to the best surf spots
SURFING:
Each lesson is 90 min
You get the right surfboard & warm wetsuits
Insurance incl.
ACCOMODATION:
The Surf Camp has a shared living room, kitchen, outside area with BBQ; as well as TV and internet. You can have a suite with private bathroom, double room or the classic shared room. You can check some photos (scroll down and watch the video to feeling this experience on the Santa Cruz Surf Camp )
SCHEDULE:
Every day we carefully choose best spot and tides and meet for the first lesson. After a break, we will have the second lesson. Afterwards you are able to go and explore the region, relax at the pool or at the beautifull Praia Azul beach.
Praia Azul is 15 min from Torres Vedras, a west coast gem, totally off the beaten track.
Just 30 min from the medieval town of Óbidos, in case you want immerse yourself in history.
Bus services run between Lisbon and Torres Vedras or Santa Cruz, making transfers easy should you not come by car.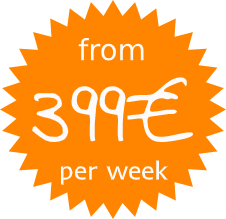 Will I have enough time to explore the region, getting one surf package?
Yes. You'll have time to both enjoy the beach and explore the region, and of course to have fun with a bit of party 🙂
Are the Surf & Accomodation packages cheaper than if I rent accomodation separated from surf lessons?
Yes, you can save money with the Surf &Accomodation packages.
Thanks to a good relation with our partners we manage to get a good deal for you!
How many people per teacher are on the surf lessons?
On average you should have a ratio of 3 to 6 people per teacher. But it's never more than 8.
Is there a minimum number of people for this package?
No, you can share the room with others. And we can teach one traveller. When you come on a big group, we divide the students by groups of no more than 8 persons per teacher.