Surf lessons in Portugal for 1 day
Surf lessons in Portugal it's an experience you're going to remember. This one day thrilling experience will be the highlight of your holidays!
With qualified lifeguards and surfing instructors, at stunning West of Portugal.
At Atlantic Coast Surf School we treat surfers of all levels individually, to give them the best support and help to advance fast.
Small group sizes with excellent student to instructor ratio.
Our Surf lessons in Portugal, can be taught in English, French, Portuguese and Spanish and German at Atlantic Coast Surf School.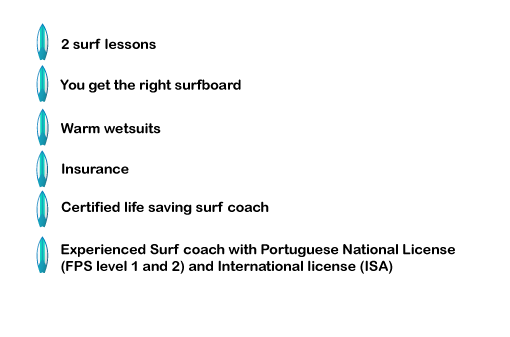 Each lesson is 90 min
Learn how to ride a wave and get tips to help you profit more from the waves – always being in safety, in control and off course having fun!
Or, improve your level of Surf lessons in Portugal (always being in safety and control) and your surf knowledge.
We offer surf lessons for different levels!

With our Surf lessons in Portugal, everyday we carefully choose best spot and tides and meet for the first lesson. After a break, we will have the second lesson. Afterwards you are able to go and explore the region or relax the beautiful Praia Azul beach. Have a coffee with us or get the best ever surfers soup at the local restaurant, right at the spot!

Praia Azul is 15 min from Torres Vedras, a west coast gem, totally off the beaten track.
Just 30 min from Peniche, Ericeira and 45 min from Lisbon.
Just 30 min from the medieval town of Óbidos, in case you want immerse yourself in history.
Bus services run between Lisbon and Torres Vedras or Santa Cruz, making transfers easy should you not come by car.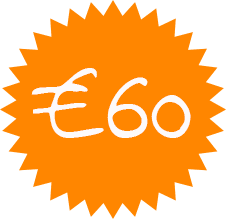 How many people per teacher are on the surf lessons?
On average you should have a ratio of 3 to 6 people per teacher. But it's never more than 8.
Is there a minimum number of people for the surf lessons?
No. We can teach one traveller. When you come on a big group, we divide the students by groups of no more than 8 persons per teacher.
How many hours a day do i stay in the water?
With the most popular package with 2 lessons/day, you stay around 3 hour's total.
Do you have any experience teaching?
Yes, we have more than 10 years' experience on professional surf teaching. With Portuguese Surf Federation Level 1 and 2 certification. And ISA (International Surfing Association)