5 days surf course is our most popular option and the best to learn and enjoy Surf!
The 5 days surf courses are mostly practical, but a small part of theory is essential. Your surf instructor will teach you about waves, tides, currents and other useful things for your surfing.
The quality of our surf courses are top priority for us here at Atlantic Coast Surf School. We provide high-quality equipment, and you will have a licensed surf instructor and lifeguard.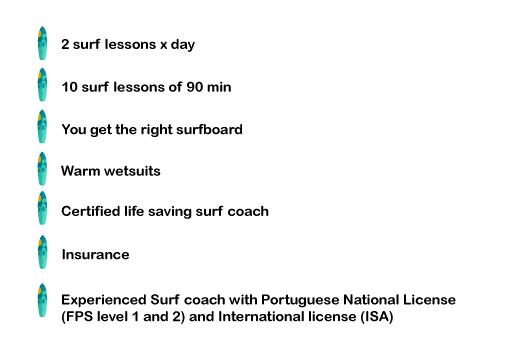 SURFING:
Each lesson is 90 min
Learn how to ride a wave and get tips to help you profit more from the waves – always being in safety, in control and off course having fun!
Or, improve your level of surf (always being in safety and control) and your surf knowledge.
We offer courses for different levels!

SCHEDULE:
Every day we carefully choose best spot and tides and meet for the first lesson.
After a break, we will have the second lesson.
Afterwards you are able to go and explore the region or relax the beautiful Praia Azul beach.
Have a coffee with us or get the best ever surfers soup at the local restaurant, right at the spot!

Praia Azul is 15 min from Torres Vedras, a west coast gem, totally off the beaten track.
Just 30 min from Peniche, Ericeira and 45 min from Lisbon.

Just 30 min from the medieval town of Óbidos, in case you want immerse yourself in history.
Bus services run between Lisbon and Torres Vedras or Santa Cruz, making transfers easy should you not come by car.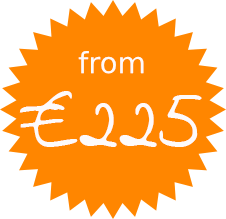 Which package is the best to learn or improve my surf?
It's the 5 days surf course (2x day). It's planned to maximize your learning. The more time you are spending with us, bigger your progress will be.
After many years of teaching surf, there is no doubt 2 lessons of 1:30h per day is the best formula to learn surf and have time to put in practice and enjoy the amazing feeling of riding waves.
How many hours a day do i stay in the water?
With the most popular package with 2 lessons/day, you stay around 3 hour's total.
Are the surf lessons cheaper with5 days surf course - 2x day?
Yes, you can save money with the surf this package. It's the option you get the cheapest surf lessons.
Will I have enough time to explore the region getting one surf package?
Yes. You'll have time to both enjoy the beach and explore the region, and of course to have fun with a bit of party